Here's a brand-new single (listen on the music page or wherever you prefer to stream music). It's a song about a couple of kitties who snuck their way into my heart this past winter. 
This is Brando (aka Chonk Dog):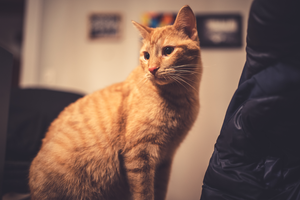 And his little brother Arnold (aka Arn Dog):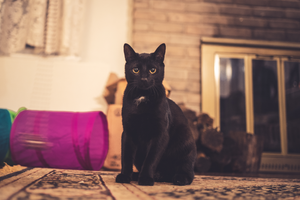 (*Photos by Dean Drouillard)
"Our Dogs" wasn't intended for public consumption, I was just messing around creating things as I do. But it seemed to make a connection with a few of my cat-loving friends so I decided to record it up and share. 
The process was chill and organic. I rented a mic and recorded my part here in Windsor. Then transferred it up to Dean Drouillard and Adrian Lawyrshyn in Toronto in their respective studios to add in some texture and tension. For the finishing touch, my fav comedian Rachel K. Olsen, also a fine painter and cat lover, would bring the boys to life via the paintbrush. A fun and enjoyable creative venture from start to finish. 
Here's the boys story… 
Arn Dog, he barks like a dog 
Chonk Dog, he eats like a dog 
Ah they're good kitties 
Except when you go to sleep 
And they start attacking your feet 
Arn Dog, he's a playing machine 
Chonk Dog, he's a digesting machine 
Ah they're good kitties 
And they came… 
They came from the street 
It started with one 
It turned into two 
We went to see Brando 
But Arnold was right there purring for you 
They're brothers from the street 
A black and ginger team 
Running up and down the stairs 
As happy as two dogs can be
Arn Dog, he's a lap dog 
Chonk Dog, he's my best bud 
Ah they're good kitties 
Except when you go to sleep 
And they start a clawing your feet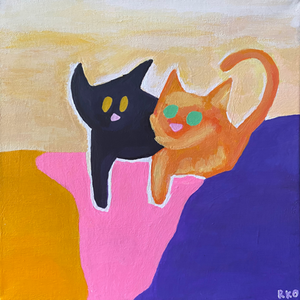 Words & Music by Ron Leary © 2022
Musicians: Ron Leary (vocals, acoustic), Dean Drouillard (electric), Adrian Lawryshyn (upright) 
Mixed & Mastered by Dean Drouillard (Hepburn Lab) 
Artwork by Rachel K. Olsen